For the central banks we offer to implement national payment systems as well as the proprietary payment systems for commercial banks and fintech companies, based both on the card instruments and crypto currencies.
ABOUT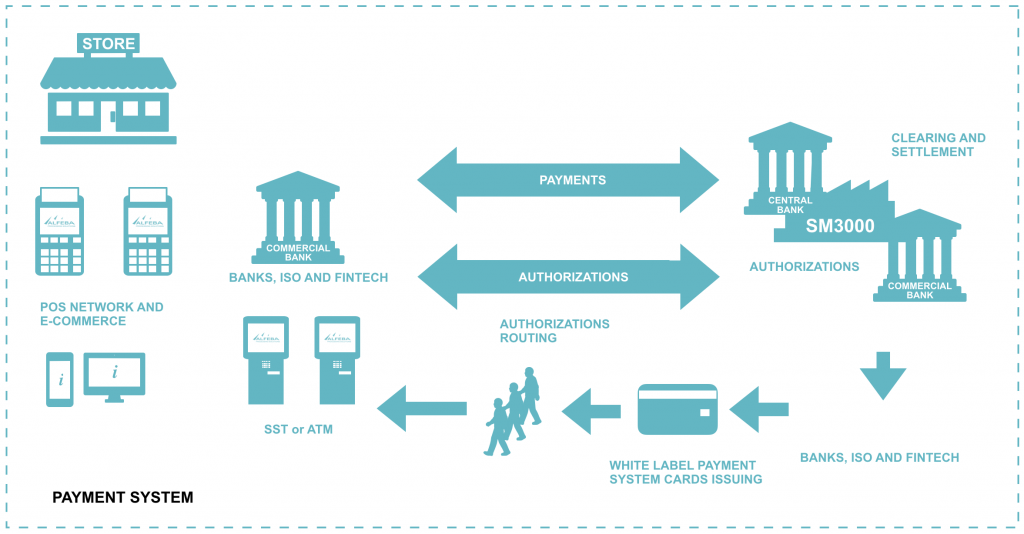 Starting our history in 1989 we developed the first processing center CardCenter MSP/ TPP/ CV/ Chip bureau in the region with a multi-banking processing of the cards personalization, issuing and acquiring programs, ATM and POS networks processing and e-commerce at the country level, that covers the needs of the national payment systems for central banks and proprietary payment systems for the commercial banks and FinTech.
Since that time we developed the main processing products of the SM3000 family for the national and proprietary payment systems, based on the international standards of the cards industry.
CARDS AND PAYMENT INSTRUMENTS
SM3000 lets issue and authorize the full list of the payment instruments for the national or proprietary payment system:
mag stripe cards;
chip contact cards;
chip contactless cards;
NFC devices like rings, watches or bracelets;
QR-code wallet based for fiat and crypto currencies and
others, including biometric.
The cards personalization is supported by SM3000 PERSO. The cards issuing processes are in the SM3000 EPS and SM3000 PAYMENTS.
CARD AND PAYMENT PRODUCTS
Our solutions support the different purposes cards and payment instruments issuing and acquiring:
Credit cards with installments or without them;
Debit cards;
Prepaid and gift cards;
Loyalty cards;
Membership cards;
others.
The full list and description you can find here.
TERMINAL EQUIPMENT
Our SM3000 HOST supports:
ATMs with a NDC, Diebold or SQL based protocols;
POS terminals of the main world known vendors, like Verifone, Ingenico, NewPOS etc.;
Self Service Terminals of the different vendors, using POS or ATM protocols.
For more information on the SM3000 authorization host possibilities look through the SM3000 EPS Functional description manual.
INTEGRATIONS
We support Host-To-Host connections with a Base24, Way4, SmartVista, Compas+ and other processing solutions to cover all point of services of the possible payment system members.
To look through the other information on SM3000 family products please, feel free to reed the functional descriptions of the products SM3000 EPS, SM3000 RISK, SM3000 PERSO, SM3000 CRYPTO and SM3000 PAYMENTS.
SERVICES AND ADMINISTRATION
We provide software installation and implementation for the payment systems or processing services without software implementation in out-sourcing mode. The software can be provided on the license sale or by the SaaS [Software as a Service] without license sale.